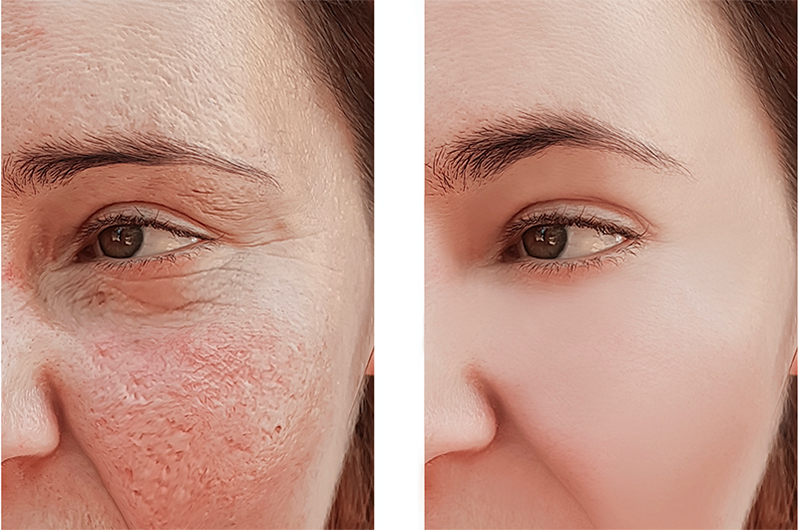 Instead of undergoing an invasive facelift, facial skin resurfacing provides similar results, minus the expense, pain, and healing time. For eliminating the appearance of fine lines and wrinkles, as well as discoloration, our treatments get exceptional results.
Facial skin resurfacing helps in these areas:
FAQ Facial Skin Resurfacing
What is Facial Skin Resurfacing?
We offer four highly advanced and safe methods for facial skin resurfacing. All of these procedures reduce the appearance of fine lines and wrinkles, along with skin discoloration. For achieving healthier and more youthful-appearing skin, these treatments produce incredible results.
Micro-Needling – This resurfacing treatment stimulates the production of collagen, giving your face a younger and fuller look. Micro-needling is also effective for improving both skin tone and texture, and reducing the appearance of pigmentation marks and scars.
Fraxel – A Fraxel treatment works by encouraging the production of collagen, thereby rejuvenating skin cells. This procedure addresses not only fine lines and wrinkles but also age spots and scarring.
Platelet Rich Plasma (PRP) – For recapturing a youthful appearance, this facial skin resurfacing treatment is an excellent choice. Because your blood combined with a dermal filler gets injected into the area getting treated, it is called the "PRP Facial."

 The laser targets redness and stimulate collagen production causing a clear, tightened result.