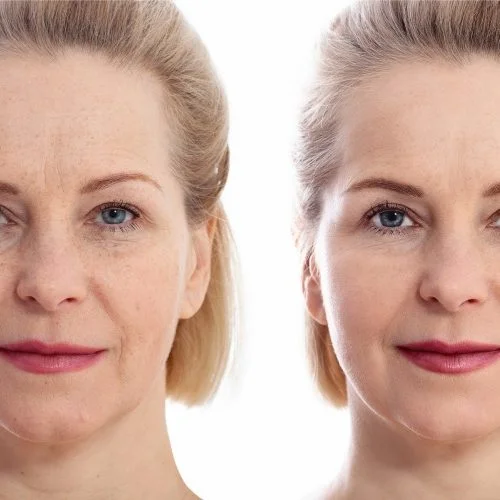 Opus Plasma Treatment New Jersey
Forever Young provides the best Opus Plasma treatment in New Jersey. In the past, the only tool for achieving a smoother, more even skin tone and treating unsightly blemishes was a laser. Opus Plasma® uses high-frequency unipolar radiofrequency technology, essentially combining radiofrequency and plasma, as an advanced energy-based skin resurfacing system. The first skin resurfacing system ever developed uses fractional plasma technology to produce youthful-looking skin and reclaim confidence. It is an FDA-cleared, non-laser device.
In essence, plasma, a cutting-edge technology used for aesthetic procedures, is an ionized gas that can be used to precisely deliver heat to the skin.
Radiofrequency-charged metal pins used in Opus Plasma are intended to inflict fractional injuries on particular skin regions. It runs at an extremely high frequency of over 40 MHz as soon as the pins are in close proximity to the skin, plasma is produced in response to atmospheric pressure, which produces heat and encourages the regeneration of collagen, elastin, and hyaluronic acid.
Opus Plasma: Igniting Skin Transformation with Precision and Power
The outcomes of an aggressive ablative CO2 laser and a mild peel are provided by Opus Plasma.
This treatment's main objective is to turn back time at the cellular level so that your skin appears much younger than it actually is. Our skilled providers can alter it to address your particular skin concerns because it delivers energy at different intensities. Even though you might see lovely results after just one treatment, we'll probably advise three to four treatments for the best outcomes.
Opus Plasma does not stop the natural aging process, but maintenance treatments spaced six to twelve months apart can help you keep your results. Opus Plasma is frequently applied to the hands, stomach, neck, and décolleté by our skilled practitioners. They may use a topical anesthetic to numb the treatment area and lessen discomfort, though it only causes minor discomfort.
Most Opus Plasma treatments are completed in just 20 to 30 minutes. You might experience some minor redness and swelling after receiving them. However, these side effects will pass quickly, allowing you to immediately resume your work and other daily obligations.
Empowering Skin Health – Unveiling the Remarkable Range of Treatable Conditions
Spots and other irregularities of the pigmentation are some examples of cosmetic issues that cannot be treated with injectables like fillers. Hyperpigmentation can be treated with Opus Plasma®. Additionally, it tightens and repairs the skin to treat a variety of additional skin issues, such as stretch marks, uneven texture, enlarged pores, fine lines, wrinkles, dullness, and acne scars. It has the dual advantages of reducing undesirable surface pigmentation and tightening sagging skin, including an eyelid lift without surgery.
Opus Plasma is adaptable and can be changed to meet the patient's needs and skin type. It can be applied to the chest, neck, face, or other parts of the body. Depending on whether you're targeting large or small areas, there are two different types of pins available, and there are three settings: light, moderate, and aggressive. The sensitive, thinner areas around the eyes or on the lips can be treated safely and precisely with the Opus Plasma® device.
This treatment is designed to be a safe and well-tolerated procedure. However, as with any medical treatment, there may be potential side effects to consider. It is essential to note that the occurrence and severity of side effects can vary from person to person. It is crucial to consult with a qualified healthcare professional before undergoing the Opus Plasma® procedure to ensure that it is suitable for your specific needs and medical history.
Opus Plasma Treatment Potential Side Effects –
Temporary Swelling and Redness

: It is typical for patients to experience brief redness and swelling in the treated areas after receiving Opus Plasma treatment. This is the skin's natural reaction to the heat and energy used during the procedure. The skin gradually returns to normal after the redness and swelling go away, usually within a few days.

Light Pain or Sensations:

Patients may feel some mild discomfort or sensations, such as heat, tingling, or prickling, during the Opus Plasma treatment. These feelings, which are caused by the energy being applied to the skin, are typically well-tolerated. Once the treatment is over, the discomfort goes away temporarily.

Dries out and peels:

Opus Plasma can cause temporary dryness and peeling of the treated skin as part of the skin rejuvenation process. This is a typical reaction and shows that the skin is renewing itself. During the healing process, it's crucial to keep the treated area moisturized and shielded from too much sun exposure.

Alterations in pigment:

Opus Plasma may occasionally result in transient pigmentation changes in the treated areas. The skin may become darker or lighter as a result of this. These alterations are typically momentary, though, and disappear as the skin heals and regenerates.
Understanding the Sensation During Opus Plasma Treatment
Opus Plasma treatments can cause some discomfort, but the level of pain experienced varies from person to person. The procedure involves the use of fractional plasma energy, which creates controlled micro-injuries on the skin's surface. While a numbing cream is typically applied before the treatment to minimize discomfort, some individuals may still feel sensations such as heat, tingling, or mild stinging during the procedure. However, the discomfort is generally tolerable and temporary. The intensity of any discomfort can be managed with proper communication between the patient and the medical professional performing the treatment, ensuring a more comfortable experience.
The Power of Opus Plasma Treatment
Opus Plasma Treatment is a revolutionary cosmetic procedure that harnesses the power of plasma to rejuvenate and revitalize the skin. Using advanced technology, this non-invasive treatment delivers controlled heating to the deeper layers of the skin, stimulating collagen production and promoting tissue regeneration. Skin that is more youthful-looking, tighter, and smoother as a result.
At the leading med spa in New Jersey, we understand the transformative potential of Opus Plasma Treatment. Our team of skilled professionals is highly trained in administering this cutting-edge procedure, ensuring optimal results and client satisfaction. Whether you're looking to reduce fine lines and wrinkles, improve skin texture and tone, or minimize acne scars, Opus Plasma Treatment can address a wide range of concerns effectively and safely.
Why Forever Young Complete Health Care??
Forever Young Complete Health Care is renowned for its commitment to excellence in delivering comprehensive healthcare services in New Jersey. Our dedication to providing the best Opus Plasma Treatment is rooted in our core values of expertise, innovation, and patient-centric care. Here's how we distinguish ourselves from the competition:
Expertise and Experience:

With years of experience in the field, our team of medical professionals possesses the expertise and knowledge necessary to deliver exceptional results. Our skilled practitioners stay up-to-date with the latest advancements in plasma technology and undergo regular training to refine their techniques. When you choose Forever Young Complete Health Care, you can rest assured that you are in the hands of seasoned professionals.

State-of-the-Art Facilities:

We understand the importance of creating a comfortable and conducive environment for our patients. We've done this by putting cutting-edge technology and contemporary amenities in our facilities. Our cutting-edge equipment, combined with our commitment to maintaining the highest standards of hygiene and safety, ensures that you receive top-quality care in a welcoming and relaxing setting.

Personalized Approach:

At Forever Young Complete Health Care, we believe in tailoring our services to meet the unique needs and goals of each individual. We take the time to understand your concerns and aspirations, developing personalized treatment plans that yield optimal results. Our team is dedicated to providing a compassionate and supportive environment, where your comfort and satisfaction are our top priorities.
When it comes to receiving the best Opus Plasma Treatment in New Jersey, Forever Young Complete Healthcare has set the gold standard. With our commitment to expertise, state-of-the-art facilities, and personalized approach, we go above and beyond to ensure your satisfaction and deliver exceptional results. Experience the transformative power of Opus Plasma Treatment at Forever Young Complete Health Care and rediscover a more youthful and radiant you. For more information you can visit ur med spa in New Jersey.
"Experience the brilliance of Opus Plasma and embrace a new era of excellence."