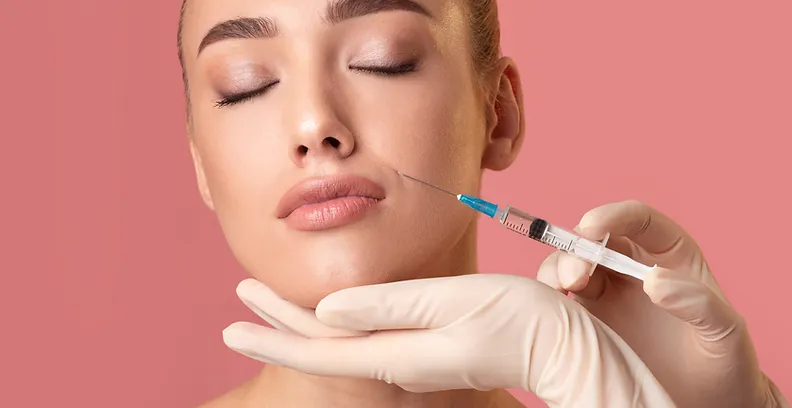 Wrinkles be gone! You may be familiar with Botox as an injectable that smooths wrinkles and lines to give patients a more youthful appearance. At Forever Young, intelligent placement of Botox will prevent against deepening creases, smoothen existing lines, all while being able to keep your natural expressions and avoiding that "frozen" look.
Benefits of Botox:
#1 non-invasive cosmetic procedure

Non-invasive, with no downtime

Quick and Easy Service Time

FDA Approved to treat frown lines and crows feet
​
Smooths wrinkles and erases fine lines

Long lasting, natural looking results

Look younger and more revitalized
Fillers
At Forever Young, we use Hyaluronic Acid Fillers such as Juvederm® and Restylane® to restore and enhance facial contours, correct deficiencies, provide symmetry, and improve the signs of aging. Injectable Fillers are among the most common and sought out aesthetic procedures in the country. Whether you want to lift sagging features, define certain areas of the face, or walk out of the office with a gorgeous pair of lips, our goal at Forever Young is to make you look well-rested and naturally beautiful.
Y-Lift
The Y-Lift is an instant, non-surgical facelift. This minimally invasive lifting procedure helps contour your face and is designed to enhance the cheekbone, under-eye areas, as well as providing definition to the chin, jawline, and upper neck. The Y-Lift is a quick, moderately painless procedure crafted to produce dramatic and long-lasting results. This procedure is so quick you could have it done on your lunch break!
Kybella
Kybella is the only FDA approved injectable treatment for destroying fat cells under the chin to improve your profile, and reduce the "double chin" effect. Referred to a "liquid liposuction" by many, Kybella uses naturally occurring deoxycholic acid to dissolve unwanted areas of fat.
PRP Procedures
PRP therapy is a three-step medical treatment in which a person's blood is drawn, quickly processed, and then injected into the scalp or other treatment area. The concentrated growth factors in your own blood encourage nerve and blood vessel growth.
PRP Hair Restoration – Using our hair restoration protocol with strategic PRP placement, we are able to increase blood supply to the hair follicle and increase the thickness of the hair shaft. This results in an improvement in hair growth, volume, and overall appearance for both men and women. 

O-Shot – Benefits for women include resolving pain during sex, increased frequency and intensity of vaginal orgasms, improved lubrication, greater arousal, a tighter vaginal canal, and improved overall sexual health.

The Male O-Shot – Benefits for men include improved blood flow, increased firmness, growth in length and girth, increased libido, heightened sensitivity, and improved overall sexual health. 
Microneedling with PRP — At Forever Young we use fine needles to prick the skin stimulates collagen growth, which can help heal scars, improve brightness, and reduce signs of aging. Especially effective for scarring when combined with PRP and our facial laser therapy.