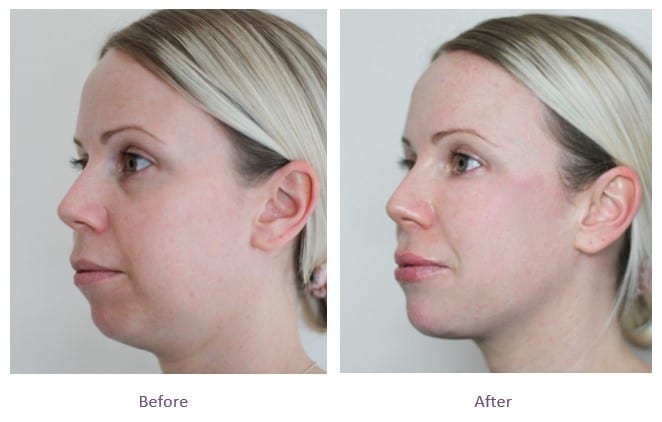 Round Out Your Chin's Appearance with Chin Filler Treatment
Forever Young Complete Health Care provides the highest standards of quality, care, and service in chin filler treatments and all its aesthetic treatments. Led by world-class board-certified aesthetic doctors, our team of dedicated professionals delivers aesthetic treatments with transformative results. 
Not everyone is born with facial features that complement their appearance. If you have a naturally thin chin area that doesn't fit your face shape or you want your contour to look a certain way, our team can provide the transformation you've been waiting for.
 Avoid the risks and extensive recovery period of surgical procedures when you can reshape your chin's contour through minimally invasive chin filler treatments 
If you want to see the difference your chin can do to improve your appearance, you may be a good candidate for our chin filler treatments. Schedule your initial consultation Forever Young Complete Health Care today to discuss your beauty goals with our aesthetic doctors. We can recommend a personalized aesthetic treatment plan that can help you look and feel your best. 
Why You Need Chin Fillers
Chin filler treatments use dermal fillers to safely and effectively add volume around the chin and alter its shape, contour, and definition. In the hands of qualified and experienced providers, the added volume from dermal fillers can provide a subtle but effective change in the shape of your chin. Overall, it can reshape the appearance of the lower side of your face – without the need for cosmetic surgery to achieve similar results.
Chin filler treatments are ideal for patients of all ages. Older adults may notice their face deflate from the loss of natural facial fat. Chin fillers can restore your initial contour and highlight your strong chin. And for younger patients, chin filler treatments are just one of the many ways dermal fillers can enhance your facial features to highlight your best parts. 
Our Process for Administering Chin Fillers
Before you can receive chin fillers, you'll undergo an initial consultation with one of our aesthetic doctors. During this appointment, they'll discuss what dermal fillers can and can't do for your chin, jaw, and overall appearance. You'll also talk about what you want to achieve from your treatment, if dermal fillers are the right aesthetic treatment for you, and if you're a qualified candidate to receive certain types of dermal fillers. It's also a good time to ask questions during your initial consultation so that you fully understand the process you're about to undergo.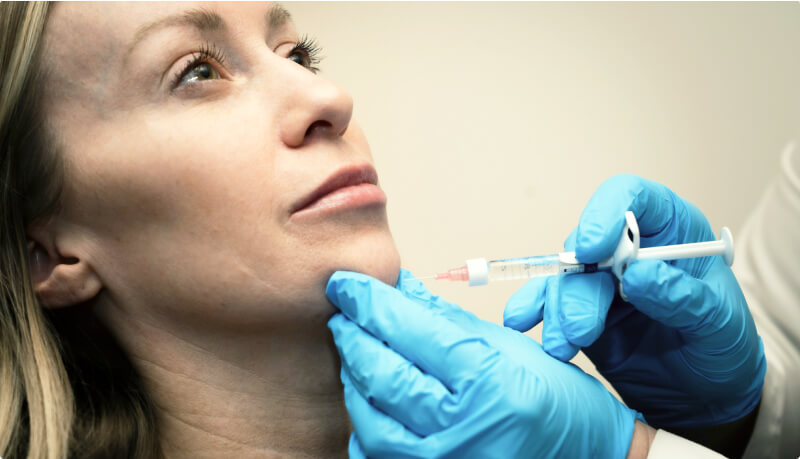 If you're qualified to receive dermal fillers for your chin, we can proceed with the treatment. First, our team will apply a numbing cream to the injection site around the chin and jaw area to minimize the pain and discomfort during treatment.
Next, one of our aesthetic providers will administer enough filler for your treatment areas to achieve your desired chin contour and volume. The entire process can take less than an hour to administer. 
The difference is instantly noticeable after your treatment. You might feel a bit full at first, but the final results can take up to 2 weeks as the filler sets onto the chin area. 
FAQs About Dermal Fillers
A: There are a number of dermal filler substances our aesthetic providers can use. These include: 
Hyaluronic acid – a natural substance found in your body that can help will collagen production while keeping your skin hydrated. Because hyaluronic acid is a common substance in your body, the risk of allergic reactions is much lower compared to other substances. Some HA filler brands include Juvederm, Restylane, and Belotero. 
Calcium hydroxyapatite – a natural substance commonly found in bones. This is a filler with calcium particles inside a thick and smooth gel. Radiesse is currently the only FDA-approved CaHa dermal filler.
Poly-L-lactic acid – a synthetic filler substance commonly used in dissolvable stitches. Aside from serving as a filler, it can stimulate collagen production to keep your skin healthy. Sculptra Aesthetic is an example of poly-l–lactic acid.
Polymethylmethacrylate – a biocompatible synthetic substance that has microspheres to support the skin and collagen production. Bellafill is an example of a polymethylmethacrylate dermal filler.
Which one is best for you can depend on the treatment area, how much filler is needed, and how well your body responds to these substances. Depending on which areas you want to fill in aside from your chin, your doctor can recommend which one if best for your treatment. 
A: It really depends on which dermal filler substance you use. Our doctors can recommend which one is best to use for chin fillers during your initial consultation. While the duration can vary between patients, hyaluronic acid dermal fillers usually wear off within 6 to 18 months, but you can also consider synthetic polymethyl-methacrylate fillers that can last several years.
A: Like other aesthetic injections, there may be some discomfort during the injection. This is normal, which is why we take steps to minimize the pain by using a topical numbing cream. Following your treatment, you might experience common side effects like mild pain, redness, bruising and swelling around your chin. These can subside after several days and can be treated with home remedies. Our team can provide you with aftercare guidelines to minimize these side effects. 
Transformative Aesthetic Solutions from Forever Young Complete Health Care
Get instant results that can help you develop contours that emphasize your best features Forever Young Complete Health Care we can help you achieve your beauty goals with minimal pain and downtime while achieving world-class results that are similar to more invasive solutions. Schedule your initial consultation today to see if dermal fillers are right for you.